The factory oil filter housing cap on your Audi doesn't jive with the rest of the engine bay's fine materials. The super-slick black billet aluminum cap by ECS corrects this oversight, while adding another dimension of increased longevity, durability, and ease of use.
Machined from solid T6061-T6 aluminum, the housing cover is black anodized for hardness and performance styling. The integral 21mm hex head makes it easy to remove and torque the cover using a common wrench size, eliminating the need to purchase a special-sized socket. For convenience, the cover has the correct tightening torque prominently etched in white, and uses the stock filter cartridge and sealing o-ring, requiring no special seal or gasket.
With this product, ECS Tuning R&D has thoroughly addressed the concern for oil housing cover cracks and leaks without overlooking your engine bay aesthetics.
Features List:
Rugged cover is CNC-machined from 6061-T6 solid aluminum to precise dimensions
Integral 21mm hex makes removal/tightening easy using this common wrench size
Black anodized finish is attractive and durable
Torque specifications etched in white for easy reference
Oil Slick
Click HERE to order or for more information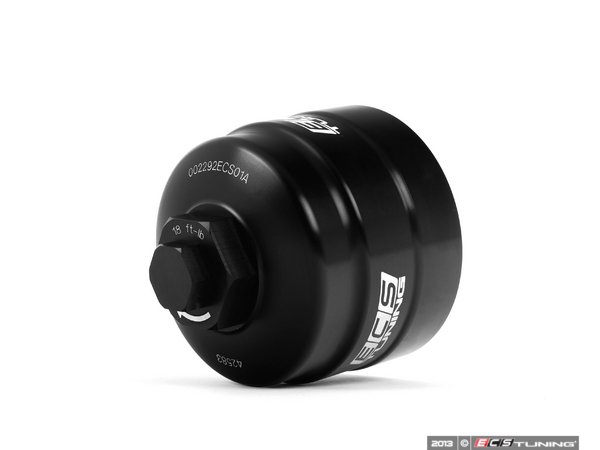 Fits:
Make(s): Audi
Model(s): A7 A4 A5 S4 S5 A6 Q5 Q7
Submodel(s): 3.0T / 3.2L
Chassis: B7 B8 C6 C7
Application Note:
To prevent damage and ensure a leak-free oil change, ECS Tuning recommends tightening the filter housing cover to the specified torque of 25Nm (18 ft-lb)
Let me know if you have any questions.
Jason